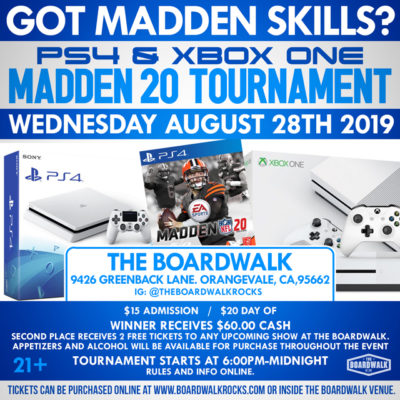 Description
Madden 20 Fans!
The Boardwalk is hosting its first ever video game tournament – winner takes home $60.00 cash! 2nd place will receive 2 free tickets to any upcoming show at the Boardwalk!
This is a 21+ Tournament.
Alcohol and food will be available for purchase. NO OUTSIDE DRINKS OR BEVERAGES.
Here's how to sign up:
You can purchase your admission on our website at www.boardwalkrocks.com OR inside the Boardwalk located at 9426 Greenback lane, Orangevale, CA, 95662.
Cost of the tournament will be $15.00 per person in advance. $20.00 the day of the tournament.
All challengers will select their team and console (PS4 or XBOX ONE) day of event.
There is ONLY 1 winner for the tournament NOT 1 winner per console.
How the console preference will work is through the tournament bracket. As you advance through the bracket your console preference will be determined by point spread. For instance, if an XBOX ONE player wins his first game by 1 point and his next opponent is against a PS4 player who wins by 10 points. The XBOX ONE preferred player would then have to play on the PS4 based off having the lower point spread.
Your position on the bracket and time will be determined by the time you signed up. If you are not signed up for the tournament by 6:00pm the day of you will be unable to participate.
Contestants can bring a guest to the bar however will not be allowed to interfere with gameplay.
The Boardwalk is going on a whim to do this for our community; we ask in return that there be no rude remarks during game play or rough housing of any sort. If you are doing such you will be asked to leave the tournament and will not receive a refund. Security will be present throughout the event.
We always open our doors with a warm welcome and are looking forward to hosting more game events following our Madden 20 tournament.
Don't miss out on this great opportunity. Be sure to notify any friends or family who may be interested.
Good luck Madden Players! We look forward to seeing you here!
EVENT WEBSITE: HERE
Find other events tagged under:
Event Categories