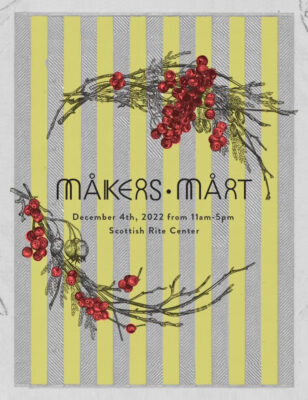 Description
Makers Mart 2022
Sunday, December 4, 2022
11:00 AM 5:00 PM
at Scottish Rite Center
Coming Soon…
~~
Makers Mart is Sacramento's most beloved maker fair. Inspired by the creative entrepreneurial spirit of Sacramento, Makers Mart brings together 70+ vendors – a thoughtfully curated slate of craftspeople, bespoke brands, designers, and local shops – to showcase the unique and diverse talent of makers from around the region.
Combined with craft cocktails, local beer, handmade tortilla tacos, and a few surprises – from pop-up lounges to floral installation, custom embroidery to street style photo ops – people come to Makers Mart to connect with artists and be inspired.
Since Makers Mart was founded in 2009 by Trisha Rhomberg and Whitney Kebschull, it's become known for activating some of Sacramento's unique spaces, bringing together the Northern California creative community to shop local and support businesses.
The event wouldn't be possible without the heart and soul of the team, which includes Founder Trisha Rhomberg, Curator/Art Director Beth Pellegrini, Producer Nicole Grant Kriege, and Web/Photo Contributor Celisse Muller.
~~
Web
Insta
Face
Find other events tagged under:
Event Categories