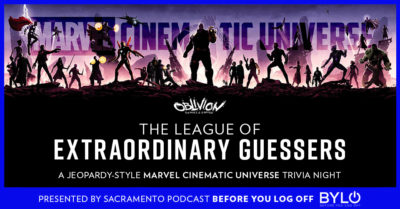 Description
Test your Marvel Cinematic Universe knowledge with The League of Extraordinary Guessers, a Jeopardy-style trivia hosted by Sacramento podcast Before You Log Off!
This event is FREE to play!
Put together a team of 1-4 members, choose a team name, sign up online ahead of time, and guess against other teams!
Arrive at 6pm, order from the coffee bar, get settled with your team, and trivia will begin at 6:30pm sharp!
SIGN UPS WILL ONLY BE ACCEPTED ONLINE.
Due to limited space, the number of teams are also limited. Use the "Tickets" link in our Facebook event to sign up your team. You'll receive an email confirming whether your team is officially registered to play or not. Walk-in teams will not be accepted if pre-registration is full.
—–
Can't make it this time? Join us another day!
The League of Extraordinary Guessers meets every last Monday 6:30pm-9pm.
Find other events tagged under: free, oblivion comics & coffee, trivia
Event Categories