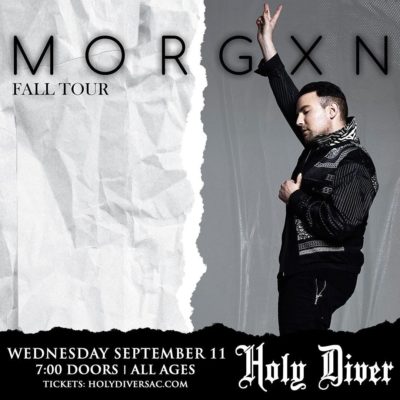 Description
Map Unavailable
Official website: Morgxn, Castlecomer, National Lines
Facebook: Morgxn, Castlecomer, National Lines
Playing with Castlecomer, National Lines
The world according to morgxn is one where traditional boundaries do not exist. At the core, alt/pop artist morgxn is a storyteller navigating the expanse between everything devastating and joyous about the human condition. Live, morgxn's soulful voice and magnetic presence set an intoxicating and mesmerizing mood. Creating a collection of danceable, relatable and memorable songs, morgxn continues to move seamlessly between the alternative and pop worlds. Over the past two years, morgxn has been not so quietly releasing new music which culminated in a debut album, vital, and a lush, acoustic EP vital : blue (s t r i p p e d), made festival debuts at Lollapalooza, Firefly, LaurelLive and Hangout Music Festival, toured extensively (X Ambassadors, Phoebe Ryan, Skylar Grey, miike snow, Dreamers, Robert Delong, ARIZONA) received megawatt licensing looks (ABC, HBO, SHOWTIME, NBC, The CW, USA Networks) and has garnered high praise across the board.
Five-piece band Castlecomer will release their self-titled debut album on October 5, 2018 via Concord Records. Brimming with blissful energy and infectious hooks, Castlecomer follows the band's remarkable rise from the pubs of Sydney to the Spotify Global Viral Chart, where their single "Fire Alarm" hit #6 on its way to racking up nearly six million streams. The track has garnered airplay everywhere from Triple J to KROQ to SiriusXM's Alt Nation and drawn comparisons to The Strokes and Daft Punk, with Rolling Stone Australia praising the band's "amalgamation of emotion and unashamed catchiness."
NATIONAL LINES PLAYS A MELODIC STYLE OF ALTERNATIVE ROCK AND ROLL THAT BLENDS DRIVEN, DISTORTED GUITARS WITH CAREFULLY CRAFTED, HOOK-DRIVEN MELODIES FROM TWO LEAD SINGERS. THEIR LIVE SHOW BLENDS THE EXCITEMENT OF AN ALMOST PARTY-ROCK ATMOSPHERE, WITH THE UNIQUE ABILITY TO ALSO PLAY SLOWER BALLADS TO A CROWD. WHILE NATIONAL LINES IS INFLUENCED BY ARTISTS SUCH AS THE FOO FIGHTERS, PARAMORE, AND FALL OUT BOY THEY PRIDE THEMSELVES IN THEIR ABILITY TO CRAFT THEIR OWN, UNIQUE SONGS AND SOUND. SONGS LIKE "LOSE YOU" (FROM THEIR 'EVERYTHING NOW' EP) HIGHLIGHT THEIR VERSATILITY AS A MUSICAL OUTFIT WHICH IS ABLE TO SING A GREAT LOVE SONG WHILE ALSO PLAYING GUITAR THROUGH A MARSHALL AMPLIFIER TURNED UP TO 10.
EVENT WEBSITE: HERE
Find other events tagged under:
Event Categories