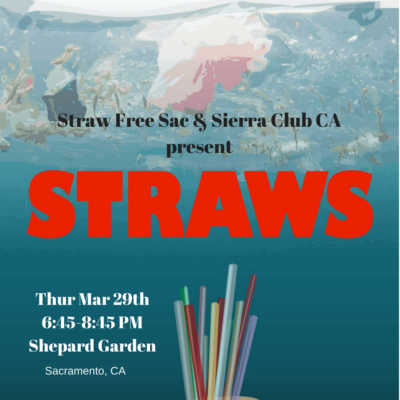 Description
This month, the Sacramento Sierra Club Group will be co-hosting movie night with Straw Free Sacramento. This newly released movie [STRAWS] covers another common form of plastic pollution and what we can do to help our environment by eliminating their widespread use. There will have a panel of local activists to talk about their efforts. 
Event Detail: 
Thursday March 29th
6:45-8:45 PM
Shepard Garden and Arts Center
About the film: 
With colorful straw history animation narrated by Oscar winner Tim Robbins, STRAWS (30 minutes) leaves audiences with a clear understanding of the problems caused by plastic pollution and empowers individuals to be part of the solution.
"A fantastic dive into the absurdity of plastic straws. With an opening sequence narrated by PPC supporter and actor Tim Robbins and interviews with PPC allies Wallace J Nichols and Jackie Nunez the film is both an educational resource and a call to action."
-Dianna Cohen, co-founder and CEO, Plastic Pollution Coalition
"I highly recommend STRAWS as an educational and entertaining film about plastic pollution. It's brisk and engaging storytelling uses humor, fairness, and heart to inspire plastic use changes we all can do…especially no plastic straws!"
-Ed Begley Jr, actor and environmentalist
Find other events tagged under: movie night, Shepard Garden & Arts Center, sierra club, straw free sacramento
Event Categories