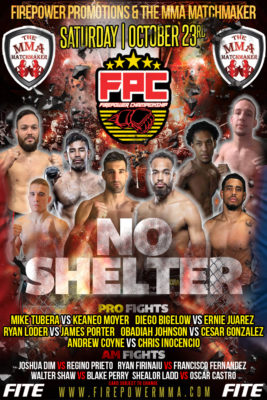 Description
Firepower Promotions is excited to present "No Shelter"
10 live MMA bouts: five professional MMA bouts and five amateur
This event also marks the debut of Firepower's new professional fighting championships called FPC, as well as the pro debuts for several favorite amateurs, including Ryan Loder, Diego Bigelow and Obadiah Johnson.
Mike "Mean Phillapene" Tubera will take on Keaneo "Young Gunz" Moyer in the main event.
Among the local, renowned MMA communities with fighters participating are Team Alpha Male in Sacramento and MMA Gold out of El Dorado Hills.
All bouts are subject to change or cancellation.
Tickets available on Eventbrite HERE
Find other events tagged under:
Event Categories