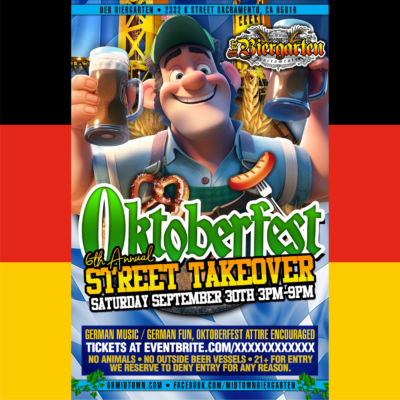 Description
Oktoberfest Midtown Sacramento – 2023
 Der Biergarten will once again take over the street on 24th and K Street in Midtown
Sacramento on 9/30/2023 to host our Annual Oktoberfest Street Party.
The takeover of 24th & K St in Midtown Sacramento by Der Biergarten will happen again on the last Saturday of September. 9/30/2023.
The event starts at 3:00pm and will end at 9:00pm with live music featuring the Gruber Family Band. DJ Eddie Z will be in the mix along with our MC Tommy G.
Plan on German beer, German entertainment, German food, and you can play games to win prizes.
The event is $15 (until 8/1/23 when price goes up to $20) per person this year in advance to help us pay expenses for taking over the street and other costs involved. You have the option to get drink tickets in advance online to save time waiting in line to purchase them. Also, you can use your CC here online as there is only cash at the event.
Please note: Tickets are non-refundable, and this is a cash only event and is for the 21 and over only
YOU CAN'T use your CC at event! Event is CASH ONLY!
German beer and light German food will be served. In addition, the block is open to some great dining options like Tres Hermanas, The Golden Bear, Flamingo House, Cantina Alley, Pizzasaurus Rex & Midtown Lounge. Make your reservation and visit them before, after, or during the party.
There is limited parking in Midtown- so walk, ride your bike or Rideshare!
This event is for the 21 and over and Valid ID will be needed. German attire is encouraged.
Tables are communal seating so first come, first seated. Meet new friends and enjoy!
There are NO REFUNDS for ticket purchases and please do not buy from outside sources as tickets bought outside of Eventbrite may be fake and will not pass through our scanners. We cannot allow you entry with tickets not passing our scanner system due to capacity issues. Do not trust outside tickets sold on Facebook or anywhere else.
YOU CAN'T use your CC at event! Event is CASH ONLY!
Find other events tagged under:
Event Categories