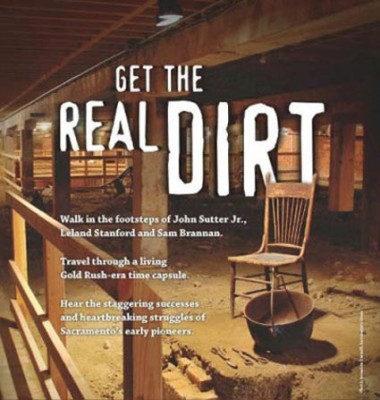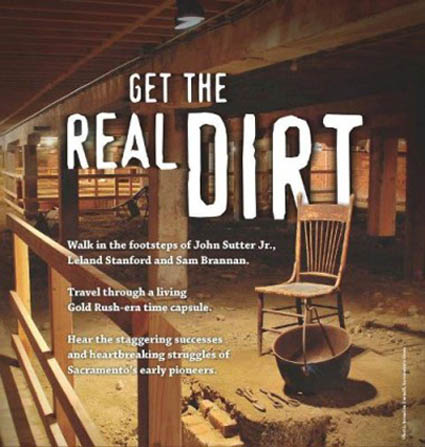 Description
The popular Old Sacramento Underground tour program will resume on weekends beginning April 1 & 2 and continue through December 2017 (with schedules fluctuating and expanding with the seasons). Hidden beneath the city for more than 150 years, Old Sacramento's underground has long been the capital's best-kept secret. Underground tour visitors have the unique opportunity to uncover the facts behind the legends that lie below historic buildings and sidewalks. Tour guests explore excavated foundations and enclosed pathways while entertaining and knowledgeable tour guides recount the tales of the devastation, perseverance, and determination that led to California's only successful street-raising project. Underground tour guests can also enjoy visual components that enhance the understanding of Sacramento's unique history. In one underground area, an archeological dig has been recreated to show tour guests how artifacts were uncovered and the critical clues they held to piecing together our fascinating history. In a second underground area, tour guests can enjoy a hands-on experience to understand how the buildings were raised plus see an exciting visual element projected onto the wall of the hollow sidewalk that shows the changing water patterns and demonstrates the effectiveness of the lifting process.

Now in its eighth season, the Old Sacramento Underground tour program is coordinated by the Sacramento History Museum in partnership with the City of Sacramento, California State Parks, Downtown Sacramento Partnership (DSP) and participating Old Sacramento merchants and businesses. While tour schedules vary with the seasons, Old Sacramento Underground tours will kick off on weekends in April, departing as follows: 11 a.m., noon, 12:30 p.m., 1:30 p.m., 2 p.m. and 3 p.m.  For groups interested in a private tour (up to 20 people), please email sturner@cityofsacramento.org. Additionally, the popular adult-only Underground After Hours tours will resume on May 4, 2017. For the adult-only evening tours, guides will share some of the dark secrets and racy tales lurking in Old Sacramento's underground history.
Plus, as a special bonus for tour guests during April and May, a complimentary pass to visit the Sacramento History Museum will be provided to everyone who purchases a tour ticket (i.e. Old Sacramento Underground Tour, Underground After Hours, etc.); please see website for details.

Regular tours of the underground last approximately one hour in length and cost $15 for adults, $10 for youths (ages 6-17), and children five and under are free. The adult-only Underground After Hours evening tours depart at 6 p.m., last approximately an hour and a half in length and cost $20 per person (only guests 21 and older will be admitted).  All tours check-in at the Sacramento History Museum located at 101 I Street in Old Sacramento. Interested tour participants are encouraged to check the website at www.sachistorymuseum.org for tour dates, times, availability and to purchase advance tickets. More information about the Old Sacramento Underground tour program or the Sacramento History Alliance is available by calling 916-808-7059.
Find other events tagged under: adult underground tours, local history, old sacramento activities, walking tour
Event Categories