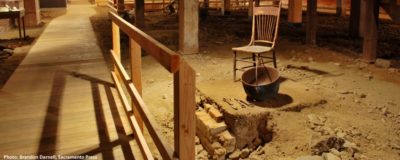 Description
It's Jacked Up! Click below to see the 2018 Schedule.

Come see and learn how Sacramento lifted itself up out of the flood waters during the 1860s and 1870s!
Tour guides explain how the streets and buildings were "Jacked Up!" to avoid further flooding as visitors explore two spaces that were created by the city's successful raising process. This historical tour includes hollow sidewalks, sloped alleyways, and the Underground spaces themselves. Our colorful cast of guides ensures no two tours are ever the same!
The 2018 Underground Tour season runs from April 7, 2018 to December 31, 2018. Tickets are available for the full 2018 season now! Tour dates and times vary throughout the year. Follow the link to buy tickets to see the full 2018 season's schedule of tours.
***
Also, check out the:
The Underground After Hours Tours Return in May! Click Below for 2018 Schedule.

Scandal and Intrigue Await!
Relive the night life of Gold Rush Sacramento – if you dare!
Your guides for Underground After Hours divulge matters they just can't discuss on the daytime tours: Murder, mischief, madness, mayhem – and madams!
Spend a night on the new town with a shady character from the past, who'll show you around to the saloons, gaming halls, theaters and houses of ill-fame – places you can only see in the twilight. Meet swindlers, soiled doves and sneaky speculators! Hear all the gossip on murders of passion, political intrigue, and the century's most notorious woman! Try your hand at a game of chance!
It's a gamblers' paradise!
Needless to say, you must be 21 or older to take part.
Find other events tagged under: gold rush history, local history, old sacramento, walking tours
Event Categories