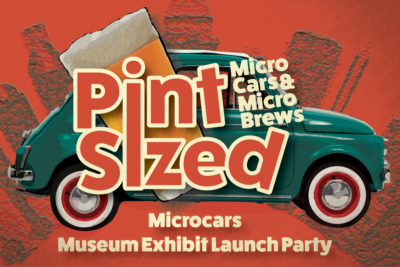 Description
A big party with lots of small cars will kick off a brand-new special exhibit at the California Automobile Museum in March 2019. Microbreweries and restaurants from across Sacramento are coming out to offer samples of their tastiest brews and bites surrounded by the most unique little cars ever built.
Sacramento's thriving culture of microbreweries help to give our city its own distinctive character which pairs perfectly with the microcars that will be on display. Many enthusiasts across California have a ton of love for these quirky little cars with big personalities. They may be small and cute but microcars were also enormously practical!
To celebrate the launch of its Microcar Exhibit, the Museum is bringing out microbreweries and catered food samples from all over Sacramento for guests to enjoy while feasting their eyes on unique cars such as a BMW Isetta, an Electra King, and a Subaru 360. If you've never heard of any of these cars before this is your chance to learn about them while enjoying your favorite local beers and foods.
Tickets are now on sale for the March 29, 2019 event start at $35 for Museum members and $40 for non-members. Proceeds from the event benefit the California Automobile Museum, a non-profit serving the Sacramento area by preserving and sharing the story of the automobile and its impact on our lives.
Find other events tagged under:
Event Categories