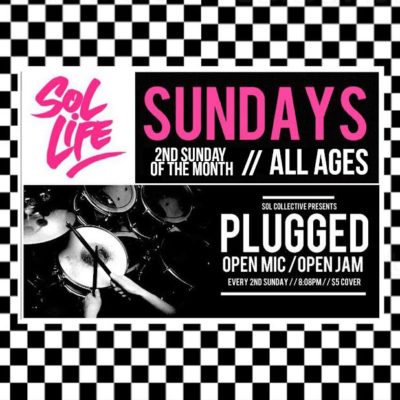 Description
Map Unavailable
Official website: Sol Collective
Facebook: Sol Collecctive
Sol Collective Presents: Plugged. Plugged invites musicians and lyricists of all genres to create the soundtrack for some of Sacramento's favorite emcees, poets, singers, and dancers!
Host by ZFG's Andru Defeye, Plugged serves as a monthly showcase and networking opportunity and is home to musical creatives every second Sunday.
Established in 2005, Sol Collective is a community-based 501(c)(3) partnership whose mission is to provide artistic, cultural, and educational programming, promote social justice, and empower youth of color, marginalized, and underserved communities through art, activism, music, and media. The Sol Collective Arts and Cultural Center is a 3,200 square foot space providing art exhibitions, educational workshops, events, and a platform for community organizing.
All ages
$5 – notaflof
EVENT WEBSITE: HERE
Find other events tagged under: live music sacramento
Event Categories