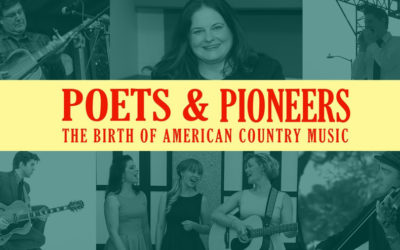 Description
Poets & Pioneers takes you on a rollicking country roots journey in celebration of our truly American music with artists from across the United States. Showcasing the Carter Family with a special appearance by third generation member Lorrie Carter Bennett, P&P highlights other legendary musicians who forged careers in the new music form, including Jimmie Rodgers, Leslie Riddle, DeFord Bailey, Hank Williams, and Kitty Wells. Discover why legends Johnny Cash, The Nitty Gritty Dirt Band, and Brad Paisley have continued to celebrate these icons of country. Roots music: rediscovered for a new generation.
ARTISTS:
Lorrie Carter Bennett
Claire Alano
Cory Coppin
Kale Coppin
Jadi Galloway
Jeanne Marie Jacobson
Giorgi Khokhobashvili
Kevin Marcy
Sunny Mitchell
Todd Morgan
Zack Sapunor
AND
Ronnie Williams, our special guest from Virginia who has followed the Carter Family for decades and continues to play music with the third generation
(MORE ARTISTS WILL BE ANNOUNCED AS THEY ARE CONFIRMED)
POETS AND PIONEERS IS PRODUCED BY THEATRE VENTURES INTERNATIONAL IN ASSOCIATION WITH SUNNY MITCHELL THEATRE PROJECTS. TVI is a 501(c)(3) THAT INVESTS IN PRODUCING CREATIVE AND PERFORMING ARTS.
Find other events tagged under:
Event Categories