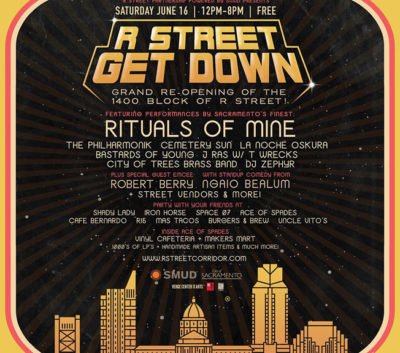 Description
R Street construction is now complete and we are ready to party. Come celebrate the grand re-opening of R Street with local music, vendors and your favorite R Street businesses on the 1400 Block of R Street.
Festivities will kick off at noon with a short ribbon cutting ceremony. DJ Zephyr will then get the party started with a DJ set followed by the live music beginning at 2:00 PM. A stellar line up of local music acts are performing on R Street including: City of Trees Brass Band, J-Ras w/ T Wrecks, Basards of Young, Lo Noche Oskura, Cemetery Sun, Philharmonik, and Rituals of Mine.
Get Down on June 16th and celebrate a new improved R Street!
Facebook event page HERE
Find other events tagged under: events, Festivals, makers, music, r street, weekend
Event Categories