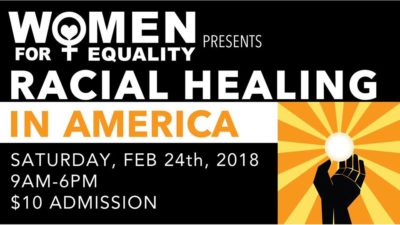 Description
We are currently experiencing a heightened awareness in our country of the need for racial healing. The prevalence of hate crimes, social injustices and racial divides have been brought to the surface to demonstrate the need for us to come together. Communication and understanding can help provide a way forward to healing the divide that prevents our country from reaching its full promise of unity and equality.
Women For Equality and Willow Tree Roots have come together to address this need for racial healing on a regional level to set the stage for a national movement. "Racial Healing in America" is a one day conference that will take place Saturday February 24, 2017 from 9:00am to 6:00pm. It will be comprised of keynote speakers, discussion panels and transformational work that will dive deep into the existing wounds, foster healthy dialogue and create community-based plans of action to create unity and equality.
Participants will:
* Experience unprecedented bonding.
* Understand the importance of racial healing
* Learn more about themselves.
* Experience what life is like as a marginalized person in this country.
* Co-create a community-based plan of action
The list keeps growing but current confirmed speakers are:
* Tiffani Sharp – Attorney at Law, Founder & Executive Director, Willow Tree Roots
* Anita Ross – Speaker, Author, Advocate, Founder, Women For Equality
* Pastor Joy Johnson – Founder of Life Matters, Inc and President of Sacramento Area Congregations Together
* Rev. Kevin Kitrell Ross – Senior Minister, Unity of Sacramento
* Ryan McClinton – Community Organizer, Sacramento ACT
* Rev. Dr. Georgia Prescott – Senior Minister, Center For Spiritual Awareness
* Ebony Ava Harper – Activist, California Endowment
* Eric Ovid Donaldson – Senior Associate Minister, Unity of Sacramento
Special musical performance directed by Rev. Charles Cooper Jr.
Admission is $10.
Mark your calendars!
Find other events tagged under: community, diversity, equality, healing, race relations, unity, women
Event Categories