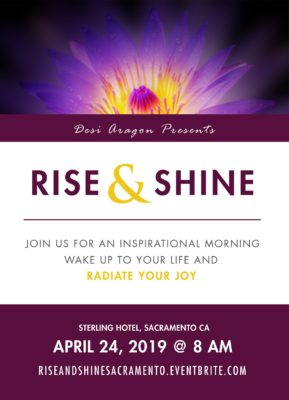 Description
Desiree Aragon Talent Development Presents:
Rise and Shine: An Inspirational Morning for Women Beyond 40
This inspirational morning event features high profile speakers showing women how-to wake up and radiate joy in a new season of life.
Ticket Link: https://riseandshinesacramento.eventbrite.com
Collectively our speakers share their messages with more than 150,000 followers on a regular basis. These proven thought leaders will each share their wisdom by weaving in practical tips for magical life experiences beyond age forty. This special event includes breakfast and is designed for guests to rediscover the mind-body connection featuring simple techniques to overcome mid-life challenges and radiate joy.
Guests can look forward to:
Health and Fitness Expert Pam Sherman shares small ways to get started on and/or sustain a path to better health. Pam is a certified fitness trainer and instructor since 1997 who has helped hundreds of people of all ages, body types and life stages discover the wealth in their health.
John St. John, a Life Transformation Strategist offering a man's perspective on the journey to wisdom. John presents an experiential exercise for guests to connect with their inherent value in mid-life and beyond.
Dialogue about the challenge of honest self-exploration will be led by Women's Embodiment Expert, Magdalena Curtis. She is a joyful catalyst who shows the way to uncover the messages in the mess of life.
In depth insight on joyful pleasures after menopause from keynote, Sacred Sensuality Coach, Lisa Schrader. In addition to serving her international clients, Lisa is also faculty of The Shift Network and was the first person to offer sacred tantra teachings on Oprah.
This event is hosted by Desiree Aragon Talent Development. Desiree Aragon is certified to engage, influence, develop and positively inspire top talent. She is a member of the National Association of Experts and a talent champion for Women Speakers Association Voices of the 21st Century.
COST: $125.00 – $140.00. Seating is limited. Tickets will not be available at the door as this is a sell-out event.
TIME: Doors Open at 7:30 AM. Program begins promptly at 8:00 AM, concludes at NOON.
Buy Tickets Here: https://riseandshinesacramento.eventbrite.com
Find other events tagged under: sterling hotel, Thrive, women, workshop
Event Categories