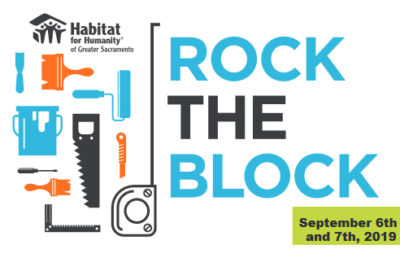 Description
Rock the Block 2019 – Habitat for Humanity in South Oak Park
Volunteers NEEDED – Please join us and help make a real difference!
Coming to South Oak Park September 6th and 7th, 2019
400 volunteers, 30+ organizations, 26 projects, and 48 hours to ROCK South Oak Park!
Rock the Block is a unique and incredible opportunity for business leaders and individuals in our Sacramento region to join together with Habitat for Humanity Greater Sacramento, socially-engaged community leaders, and residents to improve our community.
About Rock the Block:
Can you imagine living in a home that was about to fall down on top of you? Did you know there are people here in Sacramento living like that – without hope?
"Rock the Block" is a one-of-a-kind Habitat led coalition of residents, nonprofits, and organizations brought together to repair homes and revitalize South Oak Park. Our pilot Rock the Block last October catalyzed 50 organizations, nonprofits, community groups, elected officials, law enforcement, and over 250 volunteers to work together with residents to uplift South Oak Park. In 2 days, we repaired 17 homes, planted community gardens, fixed a park, and supported the local community center!
With your investment of support for Rock the Block 2019, we can continue to increase our impact year after year, add more substantial improvements to the neighborhood's community assets, and drive this revitalization forward.
Facebook event page HERE
Habitat for Humanity website HERE
Find other events tagged under: fundraisers, homes, oak park
Event Categories