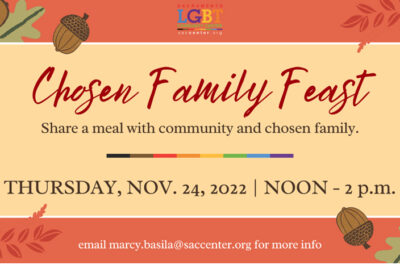 Description
The Sacramento LGBT Community Center's 7th Annual Chosen Family Feast (formerly "Friendsgiving") event is scheduled for Thursday, November 24, 2022. We invite you to share a meal with friends and chosen family at your Lavender Heights Center Location on 1015 20th Street.
This time of year is tough for folks who don't have supportive systems at home and those who don't have the finances to have a nice meal this holiday season. At the Center's Chosen Family Feast, everyone has a seat at our table and is welcome to participate.
We are fortunate to have this event as part of our #SacTownYouthNights programming! So if you know of any youth ages 12-24 who want to participate in our Chosen Family Feast, we have plenty of room at our table.
So please bring yourself, your loved ones, and your family (chosen and/or biological) to the Sacramento LGBT Community Center Lavender Heights Location and share a warm hearty meal with us.
email marcy.basila@saccenter.org for more information
RSVP HERE
Find other events tagged under:
Event Categories