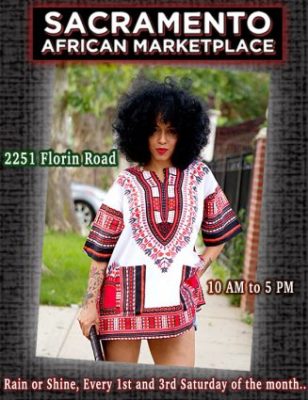 Description
1st & 3rd Saturdays
It's time to do some early holiday gift shopping or just come and buy your basic necessities such as handmade soaps, natural deodorants, oils and other body care products.
There are different vendors that participate each market as well as the usuals so each time you shop at the African Marketplace in Sacramento is a unique experience.
Why buy in big stores that all see the same items when you can get a truly unique item and support some great local artists at the same time. It's also a great place to network and be sure to check out the beautiful artwork on the walls.
Vendors include: Accessories from Tanzania, Ameenah's accessories, Banana Pudding With A Ginger Twist, Full Body Motions, I-N-Spire(Beading & Jewelry), N &N Accessories, Nor Cal Fashions, Pampered Chef, Sankofa African Youth Consciousness Workshops, SoJo Truth Art Museum,Traci Lynn Fashion Jewelry, Younique Eye Lashes, Yisrael Family Farms, Voices of Our Youth, Z Boutique Shoes, and many more ….
Find other events tagged under: florin road, shopping bazaar, Sojourner Truth Museum
Event Categories