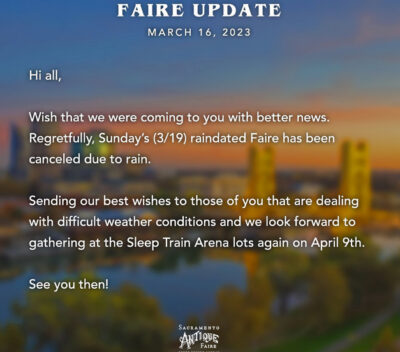 Description
3/16/23 update: from @sacantiquefaire:
"A really hard decision to let this one go, but the rain is expected to continue this Sunday. So onward and upward to a great show on April 9th! Hope you can join us then. Have a great weekend 🍀💚"
~~
3/9/23 update: due to the rain forecast for this weekend the Sacramento Antique Faire has been postponed and will take place on March 19th.
~~~~~
300+ vendors from California, Nevada, and other neighboring states selling antiques, collectibles, and vintage goods that are 20 years old and older. Clothing, military, art, jewelry, lighting, glassware, silver, toys, furniture, farmhouse, mid-century, and so much more!
Held every 2nd Sunday of the month. No pets please. Food and ATM on site.
6:30am – 3pm
Look forward to seeing you there!
Find other events tagged under:
Event Categories