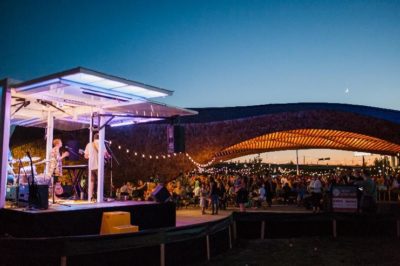 This event has expired.
When

Sat, May 20 2017

Where

The Barn
985 Riverfront St.

Time

5:00 pm - 10:00 pm

Admission

Free and Open to the Public
Description
Off the Grid Markets is back for a second season at The Barn, only on a new day, Saturdays. Beginning May 13, 2017, Saturday Nights at The Barn presented by Off the Grid, will run every week from 5:00 pm-10:00 pm, and feature a large array of food trucks, music, art, and beverages from Rye on the Road in conjunction with Drake's Brewing Co. at Sacramento's newest landmark destination.
The Barn, an architectural indoor-outdoor venue, connects the natural landscape of the riverfront to the developing Bridge District of West Sacramento. Off the Grid Markets is sharing the spotlight with Drake's Brewing Co. who will occupy the space later this year. In preparation for its permanent residency at The Barn, Drake's Brewing Co. will offer a selection of beers each week and will host a "Meet the Brewers" night every second Saturday of the month, beginning June 10.
Kicking off the season, OTG will feature fire spinners and collaborative art elements including a chalkboard wall giving guests an opportunity to interact and share their experience, further connecting with their neighbors. Throughout the season, guests can expect additional art elements in the market space, great music, and special live performances.
Saturday Nights at The Barn presented by Off the Grid showcases a dynamic lineup of 13-16 local and regional food vendors including a selection of San Francisco favorites. Vendors will be offered in a rotation of trucks every other week and guests can visit Facebook to stay tuned about the lineup each week. Vendors this season include:
ADOruBOwl | Filipino
*Flavor Face | American comfort food
*Gyro Stop | Mediterranean
*Latin Flame | Mexican
OMG Yogurt | Frozen treats
Sophia's Mini Kitchen | Mediterranean
*The Sweet Spot | Dessert
*Turnt Up Tacos & Tortas | Fusion tacos
*Who is Hungry? | Hungarian
*Cousins Maine Lobster Sacramento | Seafood
*El Ajicito | Mexican
*Flour Dust Pizza | Italian
Frenchy's Waffles | Sandwiches & dessert
*Ma Sarap Foodtruck | Filipino
*Rudy's on the Roll | Seafood
*Slyderz Grill | American
*Smokin' Ewe BBQ | BBQ
*new lineup members for Saturday Nights at The Barn
Find other events tagged under: mobile food trucks, Off the Grid, the barn, west sacramento
Event Categories