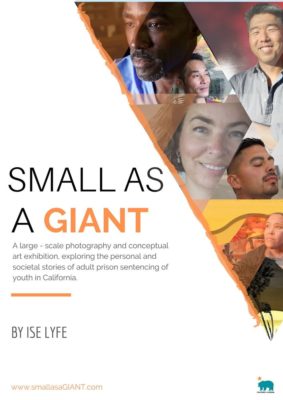 Description
smallasaGIANT is a large-scale conceptual photography exhibit by Ise Lyfe.
The exhibit features photographs of people sentenced anywhere from 20+ years up to life in prison when they were under the age of 18. The exhibit also incorporates conceptual and multimedia art centered around the broader realities of incarceration and popular opinion. Additional aspects include audio and visual narratives, life stories and convictions, family commentary, as well as provocative presentations of data/research on historical and current trends in juvenile justice.
This temporary exhibition at the California Museum features the stories of California teens sentenced to life in prison before the age of 18 through original works by artist and activist Ise Lyfe.
Lyfe spent the last two years visiting inmates in prison and formerly-incarcerated people on location throughout California, collecting photographs and video that chronicle the impact of adult sentencing on youth.
The project, which fuses photos, audio, 3D art mediums and other media components, features photographs of over 50 men and women either currently serving prison sentences or recently released — largely due to California voter-approved and legislative policy changes and shifts in public opinion in the last 25 years.
CA Museum website HERE
Find other events tagged under:
Event Categories