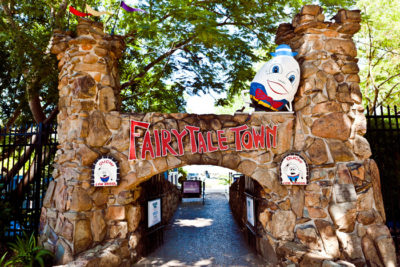 When

Sat, April 22 - Sun, April 23 2017

Where

Fairytale Town
3901 Land Park Dr.

Time

11:00 am - 2:00 pm

Admission

Tickets are $2 for nonmembers in addition to paid park admission and $1 for members.
Description
In celebration of their 10th anniversary season, the Troupers present "Snow White and Rose Red," the first original play produced by the Troupers in 2007. This is the classic fairy story from the Brothers Grimm about two little sisters in the woods, the magical bond they share with a friendly bear, and their annoying misadventures with a grumpy old dwarf. Magic, mischief and more await all ages in this new staging of a happy, old-fashioned fairytale. Performances will be held in the Children's Theater. Tickets can be purchased at the Fairytale Town main gate or at the entrance to the Children's Theater 15 minutes prior to show time. Show times are at 11 a.m. & 1 p.m. For more information, visit fairytaletown.org or call (916) 808-7462.
Find other events tagged under: fairytale town
Event Categories