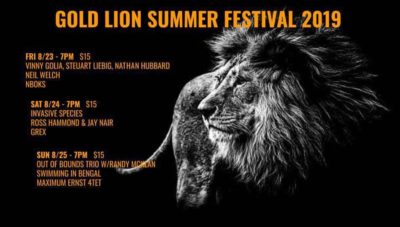 Description
Official website: Neil Welch
Facebook: Golden Lion Arts
VINNY GOLIA, STEUART LIEBIG, NATHAN HUBBARD TRIO
NEIL WELCH
NBOKS!
INSTAGON
The Trio with VINNY GOLIA, STEUART LIEBIG, NATHAN HUBBARD is from the LA environs and has been recording and touring so they should be in peak form for this performance.
Check them out at https://castorandpolluxmusic.bandcamp.com/album/next-outpost
NEIL WELCH will be performing solo and is a saxophonist and composer and is recognized as a major voice of the Seattle jazz and experimental music fields. His work is derived from improvisation, using largely non-traditional techniques that explore sonic resonance. With a strong connection to place, he performs and documents audio recordings prolifically within the urban and rural landscapes of the Pacific Northwest and beyond.
NBOKS! (nonbinaryoks!) is the trio of musical humans (Rachel Freund, Linda Michelle Hardy and Rob Esperanza) who sing for justice, equality, inclusiveness and a return to honoring our Earth home to more than just ourselves. Theirs is a fusion of classical and experimental music. Rob Esperanza is a poet who plays , percussion , guitar + Linda Michelle Hardy plays flutes and handmade instruments , synth + Rachel Freund plays clarinets+ F/x + vocals. synth
Here is a link to their unique offerings from the Luna Cafe: https://youtu.be/3lwpdE-4g3c
INSTAGON have been improvising in California for nearly 30 years. Every show is a different lineup, led by Lob the Demon Rider.
EVENT WEBSITE: HERE
Find other events tagged under:
Event Categories