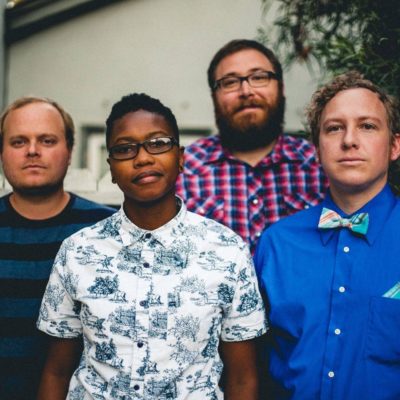 Description
Official website: Seacats
Facebook: Sun Valley Gun Club, Anton Barbeau, Seacats, The Car Crash Hearts
Featuring ANTON BARBEAU, SEACATS (Seattle), CAR CRASH HEARTS
Sun Valley Gun Club is a Northern California band that has arguably listened to way too much Pavement. Known for "endearingly loose" guitar-rock (San Jose Metro) and wall-of-sound live shows, their second studio album finds the band expanding their references. The eponymous LP draws on decades of rock-and-roll as broad ranging as guitar tones lifted from 1960's psychedelia and folk rock; the concept albums of 1970's art rock and an up-front, sometimes aggressive vocal delivery reminiscent of early 2000's indie rock.
Sun Valley Gun Club, LP, has been hailed as "nuanced and innovative" (SF Deli), and "shifting and complex" (Sacramento News and Review). Lyrically the songs are narratives inspired by film, classic Science Fiction, and the Bible, without being "buried in symbolism. It sounds like a person making sense of life." (Submerge) It is a record about cultural and religious fixation on the apocalypse, self-fulfilling prophecy, Will Smith, and the imperative of people to forgive, if not their loved ones, then at least themselves. Get it March 21st, 2016 from Transplant Sound / 20 Sided Records.
Anton Barbeau plays "pre-apocalyptic psychedelic pop." He's a Taurus, born in Sacramento and now living by a canal in Berlin. He's made something like 20 albums and has worked with members of XTC, The Soft Boys, the Bevis Frond, Cake, the Loud Family and Mystery Lawn label-mates, the Corner Laughers. Julian Cope got him stoned in Croydon once. His new album is Magic Act and it's not bad at all.
Barbeau lives in Berlin, but rocks all over the place. He tours Spain twice a year, playing solo shows or fronting Extintor. His albums are released there on the You Are The Cosmos label. In the UK, where he lived for five years, his band with ex-Robyn Hitchcock cronies Andy Metcalfe and Morris Windsor, Three Minute Tease, is no more, but this doesn't stop Ant from scrambling various musicians together for loose gigs. His latest release for Fruits de Mer, "the most collectable label in the world," is Heaven Is In Your Mind and consists of covers of songs by Traffic, Big Star and Bowie, as well as the curious original, Secretion of the Wafer, which Barbeau claims is "one of the greatest songs about crowd funding, possibly ever." When he's back in California, our Ant plays with his band Kenny. That's when he's not writing and producing albums for Allyson Seconds, whose second record, Little World, got massive attention thanks to a feature on NPR's Fresh Air. Besides Barbeau's various own projects, he also is vocalist/lyricist for French band Salt. Their forthcoming album was recorded at legendary studios Abbey Road in London and Ferber in Paris (and was produced by Ken Stringfellow of Posies/REM/Big Star fame). Our Ant is a busy kid! His next releases include Antronica 2, a second collection of synthpop tunes, a best of coming out in Spain called A Nice Slice and a "normal" next album called Natural Causes.
Nowadays, SEACATS are known as a D-list Seattle rock band, fronted by the duo of brothers Mike and Josh Davis. However the band's roots go all the way back to 2008, when Mike and Josh created a comedy web-show in their small hometown of Kelso, WA. Slowly, what was comedy-focused transformed into something more well-rounded emotionally and artistically. Close friend Jordan Cole joined and the group took on the form of a rock band when they started doing live shows in 2009. Since then, the band has explored a variety of mediums including performance art, video, a talk show, narrative dinner theater, live improv, as well as releasing 3 full-length albums.
EVENT WEBSITE: HERE
Find other events tagged under:
Event Categories