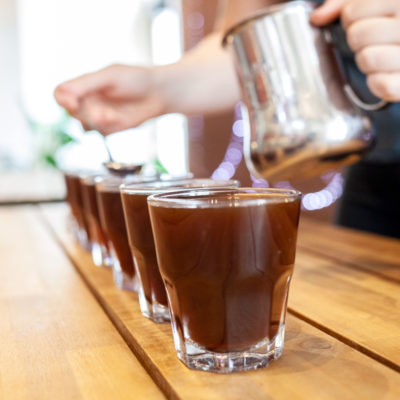 Description
Every Friday from 12-1pm, Temple Coffee Roasters hosts a Free Public Coffee Tasting at one of our participating cafes. Lead by our Training staff, Friday Public Tastings allow attendees to explore something fun and interesting in the world of specialty coffee. See the June 2019 schedule and details below:
6/7, 12-1pm: Triangulation in the Temple Training Room (2825 S St): Triangulation is essentially a pop quiz for your palate. During this Tasting Class, we will blindly taste three coffees, with one being altered in some way. Then we will try to spot the outlier amongst each brew. Will you be able to taste the difference? Let's see! Spot as many differences as you can, and the winner will receive a prize (and Temple bragging rights).
6/14, 12-1pm: Study, Sleep, Coffee Demo in Davis (239 G Street, Davis, CA): Join us at our Davis cafe as we explore the world of filtration. Ever wonder why a French Press tastes so different than a Chemex? The kind of filter make and type can have drastic effects on a coffee's overall flavor and body. Come discover the taste differences side-by-side and decide which one is the best method for you!
6/21, 12-1pm: What's Brewing at S Street Cafe? (2829 S Street): Does a dark roast have more caffeine than a light roast? How much caffeine can you have when pregnant? There are lots of opinions and myths concerning coffee's effect on health. During this week's Tasting, we will debunk myths particularly about caffeine. In this round table discussion, we will focus on caffeine's role in coffee brewing, how it's processed in your body, and review some common misconceptions.
6/28, 12-1pm: Keep Midtown Caffeinated at K Street (2200 K Street): 'Tis the season… for iced coffee! Shorts and flip flops, oh my! The weather's warming up, but we're keeping it cool. In this very fun tasting, we will flash brew some iced coffee using a Clever Dripper and V60 pour over. We will also try out our brand-new Capital Cold Brew blend. Come learn some tips on making easy and delicious iced coffee right in your own home.
Find other events tagged under: coffee class, free, friday, temple
Event Categories