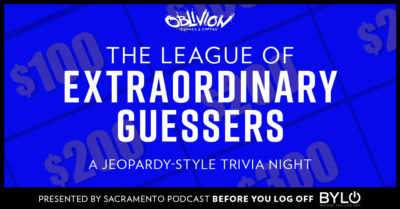 Description
Join us every last Monday night 6pm-8pm for Jeopardy-style trivia with Sacramento podcast Before You Log Off!
This event is FREE to play! Put together a league of up to 4 members, pick a league name, league leader (who will speak answers for your league), and guess against other leagues!
Due to limited space, we highly recommend signing your league up ahead of time HERE. Walk-in leagues are welcome but we can't guarantee there will be space to play.
Find other events tagged under: before you log off, jeopardy, oblivion comics & coffee, trivia
Event Categories