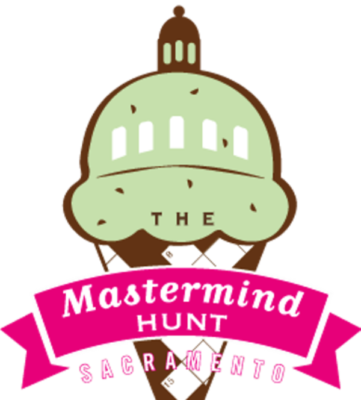 When

Sat, June 11 2016

Where

State Capitol, North Lawn
11th & L streets

Time

9:30 am - 1:00 pm
Description
Think Fast. Play Together. Eat Ice Cream. Sacramento summers are legendary for their heat, so this year we've decided to serve up a cool and tasty hunt full of ice cream themed puzzles! Bring your wits, a spirit of adventure, and a spoon, because not all of the icy treats will be in puzzle form. Mark your calendar for the morning of Saturday, June 11, and put the word out to your team.
For this year as ever: Your mission is to assemble a team of family and friends, then use your collective brainpower to solve fun and challenging clues leading to landmarks, businesses, and secret locations from Sacramento's past and present. Bring your wits, creativity and a spirit of adventure.
The Mastermind Hunt is an information-based puzzle scavenger hunt that takes place on foot in Downtown Sacramento.
*SPECIAL OFFER FOR MASTERMIND OPERATIVES*
Enter the promo code 411MHSAC629 when registering your team online for a 50% discount. Offer valid until June 4, 2016.
Find other events tagged under: scavenger hunt
Event Categories