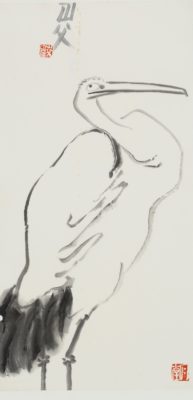 Description
Map Unavailable
Tim Collom Gallery welcomes artists' Yuebin Gong and Shan Fu to the gallery this August. Their exhibition "Ethereal Ink" runs Aug. 6 – 29, 2019. 
In China, Gong majored in Chinese figure painting. When he came to America he spent almost 20 years creating installations. The installations slowly morphed into ink painting. The combination of ink and water on nearly transparent silk allows for both structure and visual paradox in Gong's work. Impressions are left on the silk, sometimes strong, sometimes vague, almost always a shifting combination of possibilities, which is one entrance into the spiritual world. 
He forgoes traditional framing and reliance on walls for display. Soft and transparent silk, in harmony with wandering ink and water, is seen in a dimensional space with the possibility of movement and changing light. The hanging silk, away from walls, creates a living environment, based on simplicity and layered visual experience. 
Like Gong, Shan Fu graduated from the Guangzhou Academy of Fine Art with an MFA degree. His major was ink painting. Fu has exhibited in China, Japan, Malaysia and the United States. He has published several books on the practice of art and is currently working as an art instructor in the field of "New Ink Painting", at Guangzhou Art Institute. 
"Ethereal Ink" will have an opening reception on Saturday, August 10, from 5:30 – 8:30 pm. Tim Collom Gallery is located at 915 20th Street in midtown Sacramento. The gallery is open 12:00 to 6:00 pm Tuesday through Friday, Saturday 1:00 to 6:00 pm and by appointment. (916) 849-0302 info@timcollomgallery.com www.timcollomgallery.com. 
Find other events tagged under:
Event Categories