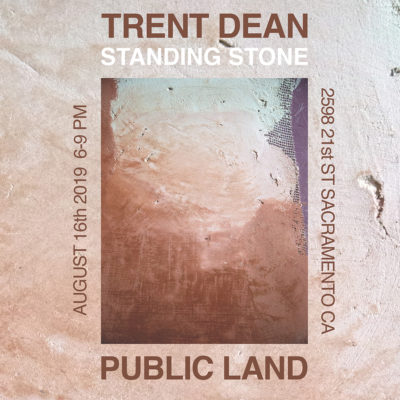 Description
Sacramento-based artist, Trent Dean, has constructed a new body of sculptural work inside Public Land Gallery in an exhibition entitled Standing Stone. Dean is an artist, designer and educator whose work transcends the traditional gallery setting. Locally, his art functions as practical pieces seen inside many homes and businesses that have requested his unique design approach, creating access to his craftsmanship through the production of operative furniture pieces.
While most who follow Dean's work are familiar with his clean, sharp lines and geometric shapes crafted of wood and steel, Standing Stone poses as a complete departure from how his practice is typically defined. This new body of work is comprised of cementitious materials that are rendered with earthen pigmentation and utilize the traditional technique of Tadelkt. Dean's discovery of these materials and his subsequent research into their historical and cultural significance are what have encouraged this shift in medium and presentation. Standing Stone not only strives to exercise Dean's versatility, but to expand the perspective of his already loyal audience.
Trent Dean has presented works through public art projects such as Art Hotel and Art Street, along with a permanent, large-scale installation on the grounds of Southside Park in Sacramento, CA. He currently teaches design/build classes and welding to both adult and high school students.
Standing Stone will be on view at Public Land Gallery from August 16th –September 12th, 2019. For price and availability inquiries, please email info@publiclandstore.com
Find other events tagged under:
Event Categories