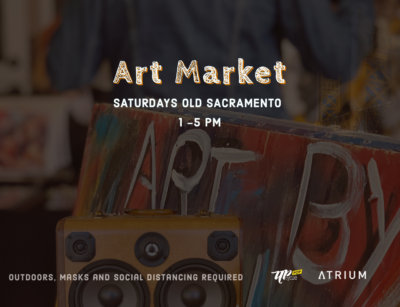 Description
UpcyclePop is an outdoor art market for upcycled and eco-friendly items located in the historic district of the Old Sacramento Waterfront. The market happens every Saturday. Times of the market fluctuates with the weather. This unique Sacramento Art Market will operate Saturday afternoons in the colder months, and Saturday evenings in the hotter months of the summer.
Upcycle Pop is a place to meet local eco-friendly makers and possibly watch artists create works of art from discarded items. During non-covid times you can experience intimate live performances, drinks for a good cause, and play with the interactive art installations. Remake, play, shop, eat and get creative. We hope to get back to doing that again. At the moment we are working to create a fun experience outdoors and strictly adhering to Covid protections.
Upcycle Pop is a program of the nonprofit Up Kindness, Inc – also known as THE ATRIUM  A Creative innovation Center for Sustainability. The Atrium has many programs from artist studios, to an online marketplace called Sacramento.Shop and even a TV series. The Atrium is a place for eco-minded creatives to find each other and work together.  At the Atrium, you will find a group of diverse creative businesses and creatives solving tomorrow's problems today.
Knowing it is impossible to indefinitely run a linear system on a finite planet, our goal is to forward the transition towards a circular economy.
WHEN: Every Saturday afternoon, beginning February 13th, 2021
WHERE: 1020 Front Street, Old Sacramento Waterfront District
Find other events tagged under:
Event Categories