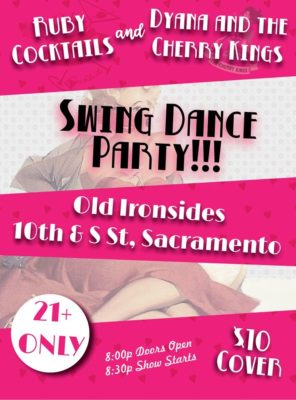 Description
Official website: Dyana & The Cherry Kings
Facebook: Ruby Cocktails, Dyana & The Cherry Kings
With RUBY COCKTAILS, DYNNA & THE CHERRY KINGS
A Romantic After-Dinner Dance Night with your Sweetheart!!! Cocktails and Swing Dance Music with Dyana & the Cherry Kings and Ruby Cocktails!!!
The Cherry Kings play the first hits of rock'n'roll…..music of the 1950's such as Eddie Cochran, Carl Perkins, Wanda Jackson, the young Elvis Presley, Patsy Cline and much, much more. We conduct each song in respectful tribute to the original recordings. We are a high-energy band that always encourage you to get-up-and-dance the night away. We also reinvent a number of current day tunes as well as 80's/90's hits with a rockabilly spin…. sure to please any crowd.
$10 Cover to dance the night away!!!
EVENT WEBSITE: HERE
Find other events tagged under:
Event Categories