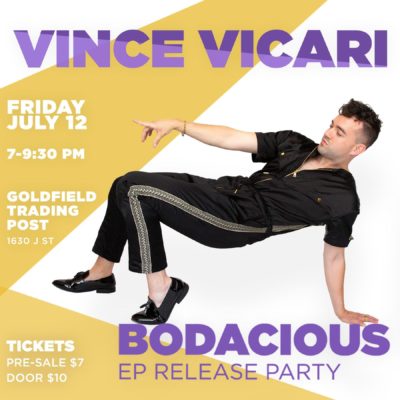 Description
Official website: here
Facebook: here
BODACIOUS EP RELEASE PARTY!
Vince Vicari crash-landed on Earth just in time to experience the '90s. Raised under sunny skies by a musical Northern California family, he began playing piano and singing at the age of eight. While Blues and Rock & Roll were played constantly in the house by his drummer Father, he gravitated toward the radio's infectious sounds of Top 40's Pop and R&B as well as the cultural influences of Funk and Reggaeton from friends he met growing up.
College brought refinement, integrity and the experience of playing live shows – all of which helped him hone his craft on stage. Drawing an audience of mostly females, he has a way of wooing a crowd. Vince's largest audience to date was over 7,000 in summer of 2013.
He's always writing and recording original Pop music. In the spirit of his life's motto, "goals are dreams with deadlines," he's been working with a team of producers, management, stylists, choreographers and musicians to ready his biggest debut yet.
When all is said and done, Vince Vicari is what Pop music has been waiting for. Jet pack strapped with his sights on the sky, allow Vince to take you along for an extraordinary ride.
EVENT WEBSITE: HERE
Find other events tagged under:
Event Categories