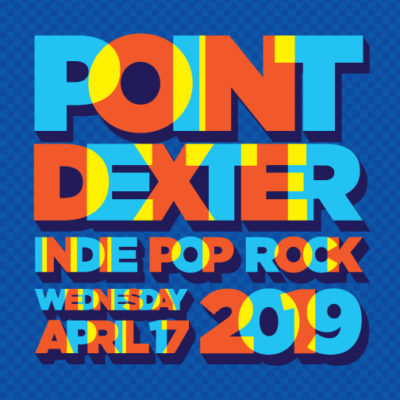 Description
Pointdexter will be performing as part of UNIQUE Programs' Wednesday Nooner series. Nooners are always free and are hosted every Wednesday during the academic semester at 12 pm, featuring local artists and entertainment, in the University Union. The band will be performing on Wednesday, April 17th, 2019. This event takes place at 12 pm in the University Union's Redwood Room. There will also be free popcorn to anyone who attends.
Pointdexter's origins include a vast array of trials and influences, which contribute to their unique sound. The band was founded by vocalist Kevin Kinsella in 2007 as a concept to revive a tired local music scene, with hard rocking educated musicians of a like mind. Pointdexter uses each member's musical proficiency to bring flavors of many genres together to promote this concept of rock revolution. The band is influenced by special music artists, including The Rolling Stones, Led Zeppelin, Incubus, Red Hot Chili Peppers, Muse, Foo Fighters. Pointdexter's music is known to be a mix of many genres including classical, blues, and jazz. Pointdexter has performed at many famous venues including The Boardwalk, Memorial Auditorium, and the Sleep Train Amphitheatre.
"We have really good messages behind our music and we want to present something that is musically sophisticated but also in a way that people could sing along too," said Kevin Kinsella, lead vocalist of Pointdexter.
The event is free to students and the general public.
For more information about upcoming UNIQUE events, please visit www.SacStateUNIQUE.com or call the University Union Information Desk at (916) 278-6997.
Find other events tagged under: free, sac state
Event Categories