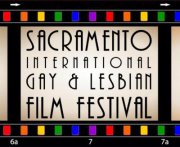 BENT Sacramento LGBTQ Film Festival
Annual event taking place second week of October
BENT Sacramento LGBTQ Film Festival
Formerly Sacramento International Gay and Lesbian Film Festival!
With a Fresh New Name and Exciting Line-up!

BENT-Sacramento International LGBTQ Film Festival is a spectacular community and cultural event consisting of three days of LGBTQ film, local food, beer, wine and live entertainment.

BENT Film Fest takes place in October each year coinciding with the national LGBTQ History Month, an observance of lesbian, gay, bisexual and transgender history, and the history of gay rights.

"Why the name change? Sacramento is growing and evolving; so is the festival," says Michael Dennis, BENT Board President. "We have updated our festival name from SIGLFF (Sacramento International Gay and Lesbian Film Festival) as the name was a bit cumbersome and the acronym was tricky to pronounce. Plus, gay and lesbian no longer encompass who we are as a community the way LGBTQ does. Why BENT? We love the various meanings of the word. BENT is not straight; BENT is queer. BENT is an inclination or natural talent. BENT is determined to do something big and bold; so are we."

What hasn't changed, however, is the mission of the festival to provide the community some of the best LGBTQ films each year. Six feature-length films and 18 short films will be showcased, which range from expectation-shattering, heart-wrenching, sexually fluid, to just plain steamy. Numerous filmmakers and special guests are expected to attend the Festival.

www.bentfilmfest.org

.

~

Held on October 8th, 1992, the first year was a big success, with a sold out, one evening event at the Crest Theater. We continue this tradition of presenting the Festival in early October to celebrate "National Coming Out Day." Each year brings growth and opportunities to show more films, give more money to beneficiaries, and support our newest program, providing completion grants to film makers.