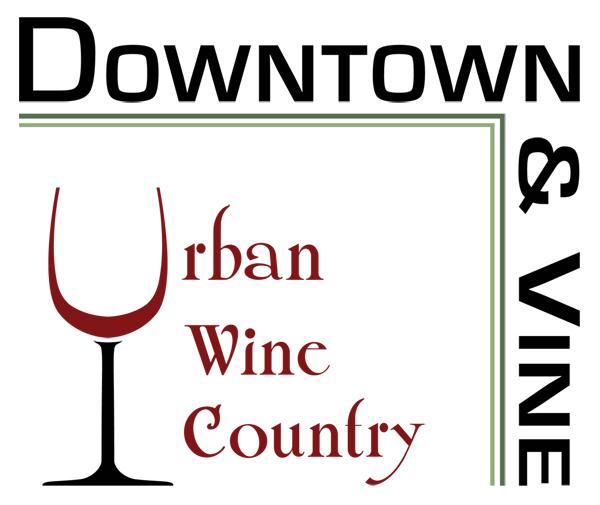 Downtown & Vine
Enjoy a Wine Country Region without the drive. Wine bar, restaurant and event center in one beautiful site.
HOURS
Wine Bar / Eatery:
Mon - Fri : 1pm - 8pm
Retail: Mon-Fri: 11am-8pm
Sat & Sun - For Private  Events


Description
Happy Hour
Merchandise
Join us for live music every Friday evening!

Featured in

Wine Enthusiast "An Insider's Guide to Sacramento"

- July 2018

Downtown & Vine brings wine country to Sacramento offering a wine bar, restaurant and event center in one beautiful site. We have focused on bringing together some of the best local wineries from regions surrounding Sacramento, Napa Valley, and Sonoma as well as an enticing international wine selection. Our wines and craft beers are offered in flights to compare tastes and find your favorites, as well as by glass or bottle. Don't forget, we're a retail shop – take home your favorite bottles and sign up for our two Wine Clubs!

At heart, Downtown & Vine is a wine bar with exceptional small plates to match with particular wine selections (many from small Sierra Foothills producers). We have craft beers on tap. We also sell wines at retail, and ship to 42 states. We are located on the K St Mall half a block from the Community Theater. We voucher $5 worth of parking at three nearby City lots. Downtown & Vine is a welcoming, comfortable experience whether you come for a full meal with friends, or just a just a glass by yourself after work.

Eat, Drink, Enjoy, Taste Local and Take Some Home!

Visit our Retail Shop HERE Visit our Event Center HERE

Happy Hour

Monday - Friday: 3pm-6pm $5 glass - red or white

Live Music on the Patio Every Friday during Happy Hour

Iron Horse is one of Sonoma County's most beautiful, small, independent, estate, family owned wineries located in cool, foggy Green Valley. The winery officially opened in 1979 with the first vintage of Estate Pinot Noir. The first vintage for the Sparkling Wines was 1980. In the arena of Sparkling Wines, Iron Horse stands at the top. The wines have been served at the White House for the past five consecutive presidential administrations, beginning with the historic Reagan-Gorbachev Summit Meetings, which deloachlead to the end of the Cold War. Find out more...

DeLoach Vineyards pioneered Pinot Noir wine growing in the Russian River Valley when Cecil DeLoach, a firefighter from San Francisco with a passion for winemaking, first planted the grape in 1973. In 2003, DeLoach Vineyards was purchased by the Boisset Family from Burgundy, France, when Jean-Charles Boisset fell in love with the Russian RiverValley on his first visit to the area, immediately recognizing the similarities between Sonoma County and Burgundy: each boast a confluence of river, mountains, and soil that is perfect for growing world-class Pinot Noir. Find out more...

Michael Mondavi Family Estate is home to several wine companies (M by Michael Mondavi, Isabel Mondavi Wines, Medusa, Spellbound and Tyler Florence Wines) and several of the Folio brands (Oberon, Emblem and Hangtime) are actually made at the estate. The Mondavi name brings a rich and compelling history. Michael Mondavi's grandfather, Cesare, was elected to find grapes and wine making supplies for families to make wine legally during Prohibition. His search was successful and, in 1919, he brought his family to Lodi, California and began the Mondavi's foray into California winemaking. Find out more...

Begun in 1992 by Bruce and Barbara Neyers, Neyers Vineyards produces about 15,000 cases of wine annually. Bruce's experiences over the past two decades working with Kermit Lynch Imports and a group of more than 100 French vintners have been important in shaping the style of our wines. In 2002, Wine and Spirits Magazine named Neyers Vineyards the Artisan Winery of the Year. No expense has been spared in our grape growing, winemaking practices, or processing equipment, yet customers repeatedly tell us that our wines represent great value in today's highly competitive wine market. We hope you agree. Find out more...

Located in the acclaimed Rutherford region of Napa Valley, California, Round Pond is a family-owned and operated estate designed around our world-class vineyards, gardens and orchards. In an area renowned for the depth and complexity of its Cabernet Sauvignon, the extraordinary artisan olive oils, vinegars, and limitedproduction wines produced from our estate reflect our family's dedication to crafting the finest specialty food items while working to preserve the natural integrity of this esteemed property. Find out more...

Vino Noceto, California's Sangiovese Specialaist. Established in 1987 by Suzy & Jim Gullett, we're a small, family-run vineyard and winery, renowned for premium Sangiovese wine. A pioneer in the renaissance of this noble Tuscan varietal, we now produce eight different Sangiovese wines (Chianti, Brunello, and Super Tuscan styles) and have 25 acres of estate-grown grapes. We also produce a Barbera, a Zinfandel and a wonderful, floral Moscato called "Frivolo." Find out more...

Shadow Ranch is located on a picturesque hilltop in the heart of the Fair Play American Viticultural Area (AVA). The homestead, built in 1888 and the old barn and original outbuildings have a rustic Gold Rush era feel, much like you would find in one of the local historic parks. Shadow Ranch embraces the concepts of sustainable farming and having as little impact on the environment as possible. The operation is solar powered and our vineyards are organically farmed. Find out more...

Dillian is a small family winery specializing in Zinfandel, Barbera and Primitivo. Tom Dillian has been growing high-quality grapes in Amador County since 1972. Tom Dillian is a fourth generation Amador County farmer. In 1991 he began making wine from the fruit of the Dillian ranch. In December of 2003 Dillian Wines opened its doors with the help of his wife Lavonne andtheir son Thomas. So, come and meet the family and enjoy the wine and hospitality that makes a trip to Shenandoah Valley a pleasant and memorable experience. Find out more...

Fiddletown Cellars winery is located in Fiddletown, a picturesque and sleepy town, founded around 1849, during the Gold Rush. Fiddletown is one of California's smallest AVA and is located within the larger Sierra Foothills AVA. At an elevation of 1800 feet, the vineyards have the longest growing season in Amador Country, allowing for maximum flavor concentration and exceptional balance year in and year out. Find out more...