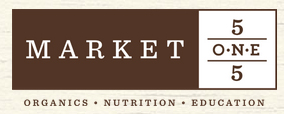 Market 5-ONE-5
Organics, Nutrition, Education
915 R St,
Sacramento, CA 95811

HOURS
Open Daily from 7am to 10pm
At Market 5-ONE-5 we want to cut through all of the noise and be the ultimate resource for your good food goals. Our name is who we are and guides every product we carry and action we take.

Our founder, Michael Teel, noticed that there was a disconnect in our communities. People wanted everyday access to AWESOME, FLAVORFUL, PACKED WITH PERSONALITY food that energized their lives. A place where people knew that the food in their basket was locally sourced and raised in the most natural ways whenever possible. A market where knowledgeable staff believed in both a healthy you and a healthy community, and knew the products that could help us all get there. THAT'S MARKET 5-ONE-5. We're here to help you BE THE BEST YOU.

NOT THE NORMAL APPROACH
The traditional approach to a market is to provide as much of everything as possible. It's the safe approach. The normal approach. But why be normal when normal is boring?

The old rules don't apply here. Instead, we've carefully curated every item on every shelf in every aisle. Simply put, if a product doesn't meet our rigorous standards we don't carry it. And if you're not sure what product is right for you then our knowledgeable team is here as your resource. They know the farmers, fishers, ranchers, bakers, chefs, and producers we work with and will help you find your new favorites.