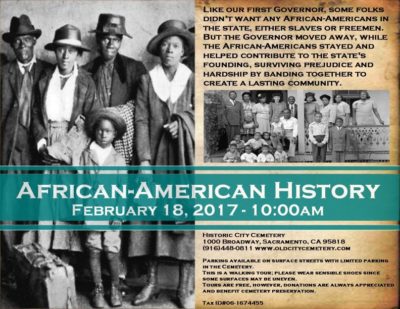 This event has expired.
When

Sat, February 18 2017

Where

Sacramento Historic City Cemetery
1000 Broadway

Time

10:00 am - 11:30 am

Admission

Free; donations welcome
Description
Like our first Governor, some folks didn't want any African-Americans in the state, either slaves or freemen. But the Governor moved away, while the African-Americans stayed and helped contribute to the state's founding, surviving prejudice and hardship by banding together to create a lasting community.
Learn more at the Sacramento City Cemetery's annual African-American History Tour on Saturday.

Find other events tagged under: local history, old city cemetery tours
Event Categories