2nd Saturday Art Walk resources:
> Monthly Newsletter – 2nd Saturday exhibits
> List of Galleries (Central City)
> Sacramento Grid App – 2nd Saturday section
About the Art Walk 
On the 2nd Saturday of every month, Sacramento galleries and local businesses host an open house evening starting at around 5:30pm until 9pm or later. Enjoy the art exhibits, local artists, food and wine, live music, street fairs and special events.
2nd Saturday Art Walk Summer 2018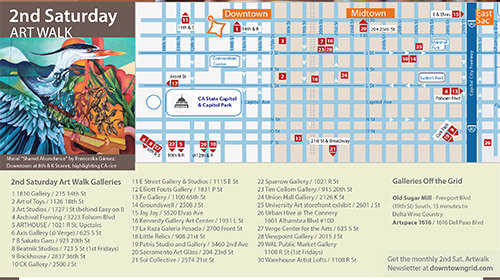 Parking:
East End Parking Garage
(17th Street between Capitol & L)
Best Deal in Midtown! Conveniently located and easy walking distance the Central City.
Note to Artists and Vendors
Please note that Downtown Grid Inc. does not organize the 2nd Saturday Art Walk. We promote current exhibits in our calendar and on the Sacramento Grid app and send out a monthly Art Walk e-newsletter. If you are interested in exhibiting your art or being a vendor, please connect with local galleries/businesses. Permit requirements for 2nd Saturday activities vary from standard permit requirements. For information on permit requirements please contact Special Event Services at (916) 808-7888 AND check out the city website with more information: https://www.cityofsacramento.org/ParksandRec/Permits/Second-Saturday
POST YOUR ART WALK EVENT:
Add an event (FREE)