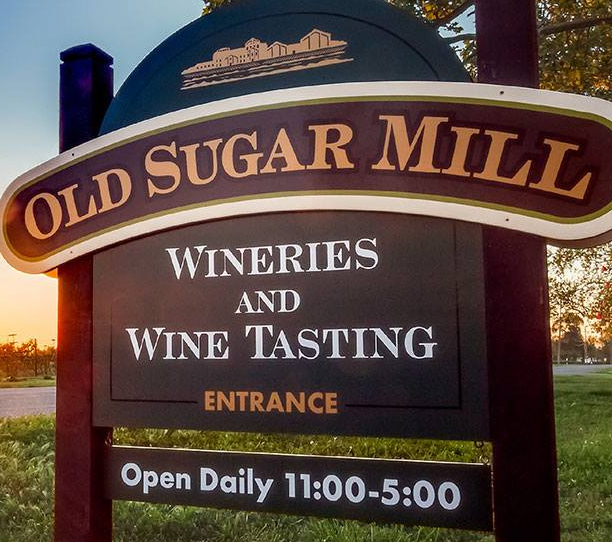 Old Sugar Mill
The Old Sugar Mill is home to a unique community of California wineries and their signature wines.
The Old Sugar Mill is home to a unique community of California wineries and their signature wines.

OPEN FOR INDOOR & OUTDOOR WINE TASTING Daily!

Our

public events

are a great way to explore the Old Sugar Mill and its diverse offerings.

See list of upcoming events.

Originally built in 1934 as an operating beet sugar refinery, the Old Sugar Mill now hosts fifteen unique wineries offering varietals from all over Northern California. Zinfandel, Cabernet Sauvignon, Barbera, Tempranillo, Chardonnay, Chenin Blanc and Sangiovese are just a few of the featured wines. Located in the heart of the Clarksburg AVA, and just 15 minutes from downtown Sacramento, the Old Sugar Mill is the premier destination for enjoying world class wines with friends and family. Complete with picnic grounds that are dog and family friendly, the Old Sugar Mill is a perfect venue for your next wine trip.

Private Events

Old Sugar Mill hosts extraordinary events in the beautiful and rustic Clarksburg Wine Country. Our venue is framed by historical old world brick walls, beautiful wine barrels, rustic windows, and artistry and craftsmanship with rich character. Ideal for corporate events, offsite retreats, birthdays, anniversaries, luncheons and dinners, holiday parties, showers, and non-profit fundraisers, we can scale events from intimate to grand and can accommodate any size occasion.The Old Sugar Mill is the ideal venue for bridal showers, rehearsal dinners, and small and large weddings alike. Please

contact us

to start creating your Old Sugar Mill memories today!

Fifteen California Wineries in One Location > See complete list

The wineries at the Old Sugar Mill, in Clarksburg, California, are a bridge to the rich agricultural heritage of the region, whose vineyards are staking their claim alongside the great wine growing regions of the world.

How to Enjoy Your Stay at Old Sugar Mill Wineries

―No

outside alcohol/beer/wine/sparkling wine

is permitted at Old Sugar Mill Wineries.

―No

tailgating or outside ice chests

are permitted at the Old Sugar Mill or in Parking Lot.

―Small lunch sized picnic baskets

are permitted

on Saturday and Sunday.

—Food items

can be purchased on weekends from on site food trucks & Deli areas

located inside Elevation Ten or Rendez-Vous Winery.

―All pets & children

MUST be supervised at all times

.

―Drones, kites, airplanes, skateboards, roller blades/skates, soccer/football/tennis equipment

are not permitted at any time.

―Photography (professional shoots)

MUST be pre approved

with signed waiver and permit issued by Old Sugar Mill for your safety.

Photographers and guests taking professional photos without permission will be asked to cease activity and/or leave the property.

Please

contact us

with any questions.

Free Parking!

Directions to the Old Sugar Mill can be found

here

.

Patio Seating

We have patio tables and chairs with umbrellas for 60 people on the back plaza. These tables are first come first serve, we do not take reservations for the patio.   Please do not relocate the tables and chairs. The patio is also a smoking free section.

Family Friendly

While wine tasting itself is strictly an adult endeavor, but with the introduction of new family attractions -- and several other little-known charms -- you can customize your activities, venture off the beaten path, and create an experience your family will never forget.

Picnic Friendly

We welcome picnicking, but due to our licensing no other alcoholic beverages besides what is purchased at the Old Sugar Mill are allowed.   In other words, no outside wine, no beer, and no hard alcohol on premises.  When discovered we will ask you to return them to your vehicle.

Pet Friendly

Pets need weekends too.  Pets are welcome in a carrier or on a leash at all times.

Pet lovers also stay tuned to our events page for the two pet adoption events we hold with Happy Tails Pet Sanctuary.

Green Practices

Our recycling bins fund the Clarksburg Recycles Foundation which funds scholarships for the Delta High School.  Every bottle and can helps so please make sure to sort your trash and recycling.

Beyond recycling our customer trash, and also recycle all our production and retail recyclables.

We are working with PG&E to replace all our light fixtures and light bulbs with LED lights.

Cycling and Bike Racks

The Old Sugar Mill is a great place to ride to.  We have restrooms, drinking fountains, and bike racks.