Small Plates & Tapas on the Grid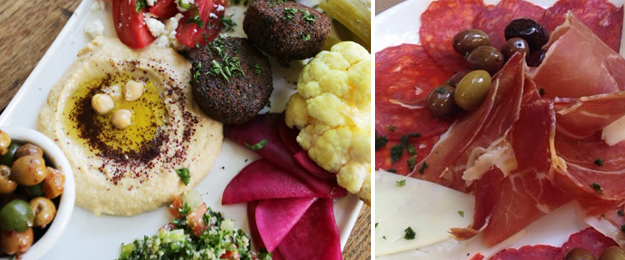 Enjoy some drinks and share great food together.
58 Degrees & Holding Co.
Featuring the world's most interesting wines along with a distinctive menu of locally sourced, fresh ingredients expertly crafted into dazzling small plates, entrees and desserts. Dinner and small plates served daily.  Wine shop hours: Mon – Fri 1-10pm Sa & Su 1-10pm. 1217 18th St / 916-442-5858.



Aioli Bodega Española
Authentic Spanish cuisine with a full selection of Spanish tapas, meals, wines, and desserts for lunch & dinner.  Mo – Sat Lunch & Dinner / Su Dinner. 1800 L St / 916-447-9440


Downtown & Vine 
Wine bar, small plates and entrees. Tasting Room featuring a dozen wineries from some of the finest vineyards and winemakers in California. Enjoy live music on Friday nights. Open Mon – Fri until 8pm / 1200 K St / 916-228-4518


Kasbah Lounge 
Experience the flavors, sounds, smells, and sights of the Middle East. Some are traditional, some are creative – all are tasty and soulful, including a variety of homemade dessert specials.   Open late nights daily /  belly dancing and live music (check schedule) / 2115 J St. / 916-442-4388


Tapa the World
Traditional Spanish dishes & tapas, along with creations from the chef, using ingredients from around the world. Enjoy live Spanish Classical & Flamenco Guitar Wed – Su evenings. Lunch, dinner, late nights daily.   2115 J St/ 916-442-4353