Knobs and Knockers German Biergarten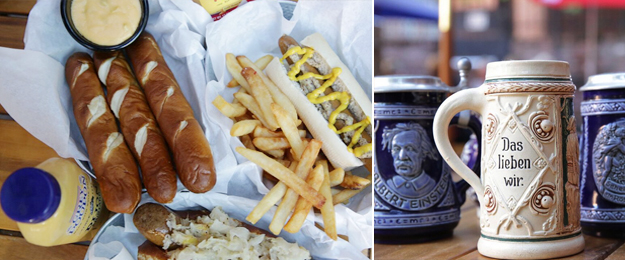 Delicious, traditional beer-garden fare and a cool underground atmosphere. Outdoor patio and full bar too!
In the heart and depths of Old Sacramento emerges a tasty treat – the new German Biergarten "Knobs and Knockers".  Join us for delicious traditional German fare and an unique Old Sacramento underground atmosphere!
We have an exceptional selection of German beers on tap and in bottles plus sausages, pretzels, vegan options, schnitzel and much more. Perfect for casual drinking and dining with friends and family.
Nightlife fun: Check our Facebook page for events.
Oktoberfest Sat. 10/6/18
Games, Food, Beer, Music, Stein Hoisting Competition and MORE!
Featuring a selection of Oktoberfest beers from:
Weihenstephaner, HofBrau, Benediktiner, Spaten, Weltenburger, Hacker Pschorr, Andechs and Paulaner. Marzen and Munich Style Festbiers. Come early and get a keepsake mug!!! (While supplies last) we have several brands!
Come join the fun and let's drink BEER!!
Knobs and Knockers German Biergarten
1023 A Front Street
Sacramento, CA 95814
(916) 321-9480