Community Support COVID-19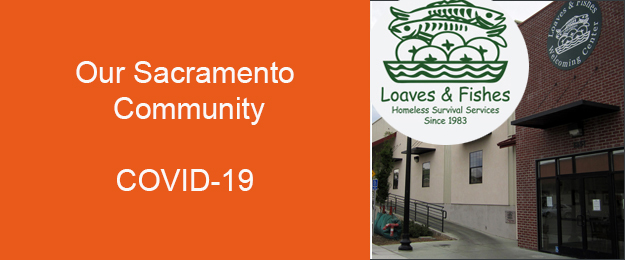 Community Resources and Assistance
These are unprecedented times and together we are stronger. We will compile community resources in this section, updating it regularly. Stay healthy and safe out there. We are truly touched by all the community support all around.
~ Julia Seebach and Rebecca Sykes, Downtown Grid Inc.
HELP US SAVE OUR LOCAL RESTAURANTS
In response to the devastating impacts of COVID-19 on the Sacramento Restaurant Community and the Farm-to-Fork movement, Mayor Steinberg and Region Restaurants have established this GoFundMe to help support the survival and reopening of our locally owned independent restaurants and bars.  We ask that you donate to help support this cause.
Donate4Sacramento COVID-19 Regional Response Fund
TO HELP THOSE HURT ECONOMICALLY BY COVID-19
Public, private, labor and nonprofit leaders throughout the Sacramento region have joined forces to raise both awareness of what we as a community are confronting and resources that will be dedicated to help vulnerable populations and small businesses.
Kiva Small Businesses Loans
Small businesses are suffering under the impact of Coronavirus COVID-19. But we believe the Kiva community can help, which is why we're expanding our Kiva U.S. program to make loans more available than ever for small business owners during tough economic times.
In addition to 0% interest and no fees, U.S. applicants for a Kiva loan will have access to the following:
Expanded eligibility: More businesses in the US will be eligible for a Kiva loan.
Larger loans: The maximum loan on the Kiva platform will increase from $10,000 to $15,000.
Grace period: New borrowers may access a grace period of up to 6 months for greater financial flexibility.
>> Apply here
Emergency Funding Sources – New Economy Coalition NEC
To help support you in this difficult moment, New Economy Coalition NEC staff has pulled together a detailed roundup of COVID-19 Emergency Funding Sources. Also check out some of these opportunities from NEC members:
• Restaurant Opportunities Center (ROC) has set up a relief center for restaurant workers immediately impacted.
• The New England Grassroots Fund is making rapid response funds available to grassroots groups responding to local needs and building resilience in their community in response to the COVID-19 pandemic.
Our Mission: The New Economy Coalition (NEC) is a network of organizations imagining and building a future where people, communities, and ecosystems thrive. Together, we are creating deep change in our economy and politics—placing power in the hands of people and uprooting legacies of harm—so that a fundamentally new system can take root.
>>See all the resource put together by NEC
3/23/20:
Dear Sacramento Loaves & Fishes Community,
We have heard some concerns around whether Loaves & Fishes is still operating in the face of the COVID-19 pandemic. To clarify, we are open from 7am to noon, Monday through Friday. Modified hours were put into effect last Monday, March 16th and specific program information is listed below:
• Breakfast is being provided at Friendship Park to guests and is open until noon.
• The Dining Room is serving lunch each day from 10am to noon.
• Maryhouse is distributing survival supplies to our women and families and providing access to showers.
• The Wash House is providing shower access to men.
• Sister Nora's Place, our onsite shelter for women, is open and operating.
If there are any changes to services, we will communicate it out via website, email, and social media.
During this time of uncertainty and worry, we remain focused on doing what we can for our guests. We are taking precautions at our programs to deliver services, but guard against COVID-19 – reminding people to wash hands, not to touch their faces, and practice social distancing. We've increased hand washing stations on campus and will distribute hand sanitizer to guests as we receive them. We continue to monitor the local, state, and federal response and will adjust our protocols and back-up plans for delivering services as advised.
Stay up to date and read the latest news/media mentions below:
Most importantly: we want you to know we are still here for our family, our brothers and sisters experiencing homelessness. Our fear is that we will see the number of guests increase in the coming weeks for the families on the fringe of extreme poverty and your help is needed. We still need volunteers, although we have limited spots to ensure that people can maintain a safe distance from each other while working. We also need in-kind donations as seen on our needs list, or monetary donations online or checks sent to PO Box 13495, Sacramento, CA 95813. We will keep you informed with any changes or other announcements. For questions or concerns, please email info@sacloaves.org. Thank you all.
Please stay safe and healthy, and help where you can.
In community,
Noel Kammermann