KoJa Kitchen
Posted to Eat the Grid November 10th, 2021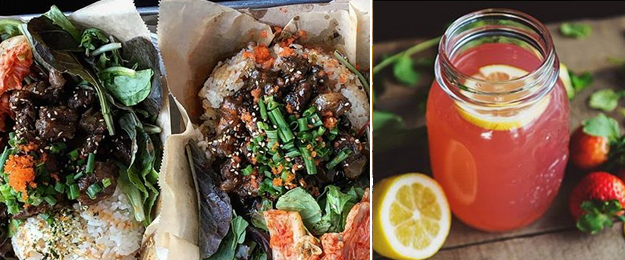 Unique Korean-Japanese bites with an outdoor patio (Open Daily) and K Bar downstairs (W-Sat) in Downtown Sacramento

Open Daily. Delivery available through apps.
Open daily ✔️
Late-night on weekends ✔️
Gluten free ✔️
Veg option ✔️
Catering ✔️
Boba tea ✔️
Karaoki & Bar ✔️
KoJa (aka Korean-Japanese) is a special gourmet sandwich (+ bowls, salads, tacos, fries) infused with a unique combination of Korean & Japanese flavors. To step it up a notch, KoJa Kitchen substitutes the traditional wheat buns with freshly made crispy garlic rice buns.
Call to reserve private karaoke room downstairs 916-476-5214.
KoJa Kitchen
732 K Street
Sacramento, CA 95814
916-476-5214