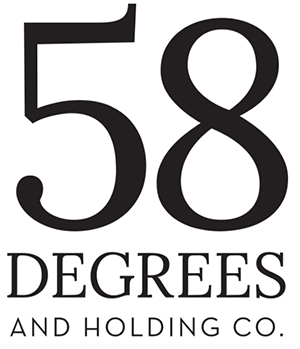 58 Degrees & Holding Co.
Wine bar, restaurant and event space.
1217 18th Street
Sacramento, CA 95811

HOURS
Mon-Fri Lunch: 11am-3pm
Mon-Sat Dinner: 4pm-11pm

Happy hour daily 3pm-6pm
Sat-Sun Brunch: 10am-3pm
Description
Menu / Specials
Happy Hour
Located in the dynamic "Handle District" of midtown Sacramento,

58 Degrees & Holding Co.

is the premiere food and wine destination for the discerning afficionado.  We now also have a large space available for your special private events.

Whether you're looking for a romantic setting, a place to unwind for happy hour, a lively hangout, or need an event space, we are here to serve. You will love the selection, which include small plates, full dinner and decadent dessert.

Our wine list is comprised of high quality wines from around the world and an equal amount of thought and attention is given to food and wine pairings.

Visit our

Facebook

to find the latest!

58 Degrees & Holding Co. offers a magnificent setting for the most striking of events. From intimate sit down dinners to large cocktail parties to private events, we can cater to a range of event needs. Playing host to some of the the most exclusive receptions, 58 Degrees & Holding Co. boasts four different areas; Bar and Lounge, the exclusive Private Room, popular Dining Room, and highly requested mixer & gathering space. Whether you are hosting an intimate sit down reception for 8+ guests or an elegant cocktail party reception of 100 guests, we are able to provide a space capable of catering to your every need.

​For further information please contact our team: (916) 442-5858 or Info@58degrees.com

Restaurant Hours:

Mon-Fri Lunch: 11am-3pm

Mon-Sat Dinner: 4pm-11pm

Happy hour daily 3pm-6pm

Brunch Saturday/Sunday: 10am-3pm

Wine Bar:

Sun-Thur: 4pm-11pm

Fri-Sat: 4pm - Midnight

Happy Hour:
4-6pm Mon-Fri

Visit our Facebook for the latest!