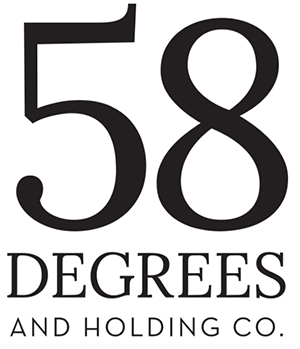 58 Degrees & Holding Co.
Enjoy some of the world's most interesting wines along with a distinctive menu of locally sourced, fresh ingredients expertly crafted into dazzling small plates, entrees and desserts.
1217 18th Street
Sacramento, CA 95811

HOURS
Mon-Fri Lunch: 11am-3pm
Mon-Sat Dinner: 4pm-11pm

Happy hour daily 3pm-6pm
Sat-Sun Brunch: 10am-3pm
Description
Menu / Specials
Happy Hour
Located in the dynamic "Handle District" of midtown Sacramento,

58 Degrees & Holding Co.

is the premiere food and wine destination for the discerning afficionado.  We offer 58 wines by the glass in Bar 58, over 500 selections of hard to find, boutique-style wines in the retail shop, and optimum wine cellaring for locker members.  In addition, our Private Cellar Room is the perfect setting for intimate gatherings of up to 16 people.

Whether you're looking for a romantic setting, a place to unwind for happy hour, a lively hangout, or have a business meeting, we are here to serve. You will love the selection, which include small plates, full dinner and decadent dessert.

Our wine list is comprised of high quality wines from around the world and an equal amount of thought and attention is given to food and wine pairings.

Visit our

Facebook

to find the latest!

Restaurant Hours:

Mon-Fri Lunch: 11am-3pm

Mon-Sat Dinner: 4pm-11pm

Happy hour daily 3pm-6pm

Brunch Saturday/Sunday: 10am-3pm

Wine Bar:

Sun-Thur: 4pm-11pm

Fri-Sat: 4pm - Midnight

Wine Shop:

Open daily during restaurant hours.

Happy Hour:
4-6pm Mon-Fri

Visit our Facebook for the latest!