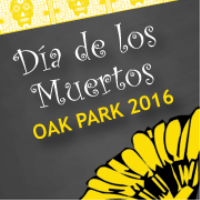 Dia de los Muertos Oak Park
Dia de los Muertos Oak Park is an annual event in November (with a series of related pre-events in October)
Dia de los Muertos Oak Park
The Brickhouse
2837 36th Street
Sacramento, CA
Día de los Muertos Oak Park will be celebrated throughout the month of October with a lecture and workshop series leading up to our community celebration of Día de los Muertos on the evening of November 2nd. Be sure to come out and experience what this tradition is all about! Check out our Events page on Facebook below for a more comprehensive schedule of our events.

Explore our

events throughout October

and leading up to our Día de los Muertos celebration on November 2, 2016!