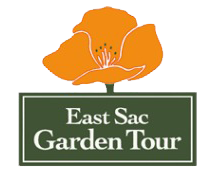 East Sac Garden Tour
Tour beautiful gardens located in and around the Fabulous Forties in the heart of East Sacramento, annual event on Mother's Day Weekend.
East Sacramento
Sacramento, CA 95819
May 12 & 13, 2018 (Mother's Day Weekend)

Join Sacramento in celebrating the 20th Anniversary of the East Sac Garden Tour on Mother's Day weekend, May 12th and 13th. Seven fabulous gardens will be open to public viewing, including the star of the tour this year, "The Blue House" garden from the Oscar-nominated movie Lady Bird. During your walking tour, you can buy locally-made crafts at the Artisan Boutique, visit the ChalkTop featuring David Lubin Elementary student's chalk art, enjoy a Tea Garden lunch at Sutter Lawn, visit the Sweet Stop for refreshments, and see cars on display from the California Auto Museum.

Come enjoy the Sacramento Mother's Day tradition. Stroll through the beautiful streets of East Sacramento and get ideas for your own backyard paradise at The East Sac Garden Tour.