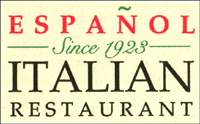 Espanol Italian Restaurant (CLOSED)
Family owned restaurant, serving Sacramento for three generations.
Espanol Italian Restaurant (CLOSED)
5723 Folsom Blvd.
Sacramento, CA 95819

HOURS
Tuesday - Saturday:
11am to 9pm
Sunday:
11:30am to 9pm

Lunch:
Tuesday -Saturday:
11am - 4pm
Description
Menu / Specials
Happy Hour
Summer 2020 - Now Closed

-----

'Over Eight decades of Excellence.

Espanol Italian Restaurant's last day is Sunday, August 2nd, 2020.
> Longtime local restaurant closing in East Sacramento - Sacramento Business Journal July 2020

Stay tuned for what will come next. The entire Luigi/Serrano team will dearly miss its loyal customers, who have become part of the Espanol family over the many decades. Thank you!!

_______________________________________

Sacramento's Longest Serving Restaurant

The tradition of fine cuisine at Espanol goes all the way back to 1923, when it was located at 114 J Street and served the traditional cuisine from Europe's Basque Region. In 1952 the building on J Street was sold and Espanol moved to Old Sacramento into a commercial hotel at 3rd and I Street.

Several years later, in 1959, the restaurant was bought by Babe Luigi and his brother Mario. With new owners and the name and cuisine change that followed,

Espanol Italian Restaurant

was re-introduced to Sacramento. The Luigi brothers have been serving the residents and visitors of Sacramento true Italian Specialties ever since.

Five years after adding the Italian Flair to Espanol, the redevelopment in Old Sacramento caused the popular restaurant to relocate to its present location. Today, the restaurant continues to be run by the Luigi Family and continues to be one of Sacramento's Best Italian Restaurants.

Babe's three children, Perry, Paula and Karen are proud to serve you in Espanol's friendly atmosphere, which has kept customers happy for three generations.