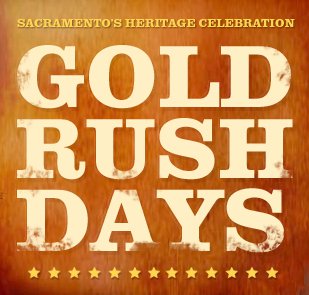 Gold Rush Days
Annual event that takes place Labor Day Weekend
Old Sacramento
Sacramento, CA 94814
2017 dates:

Friday, Sept. 1: -Education Day**
Saturday, Sept. 2: 11 a.m.-7 p.m.
Sunday, Sept. 3: 11 a.m.-7 p.m.
Monday, Sept. 4: TBD

**pre-registration required to participate in Education Events. Old Sacramento will still be open to the public to visit. Gold Rush Days Events start on Saturday and go until Monday.

Get ready to turn back time to the 1850s!  Come one, come all to the wildly fun, entertaining and free Gold Rush Days in Old Sacramento over Labor Day Weekend!!! From musicians to melodramas, soldiers to saloons, you'll experience it all at Gold Rush Days.  The popular event features talented musicians performing live on several stages, Old West theatrics, history re-enactments such as Squatter's Riots and Pony Express Relays, horse-drawn carriages, cowboys on horseback, ladies riding sidesaddle, wagon rides, gold panning, Artisan Alley, hands-on children's arts and crafts activities, watermelon eating contests in the Save Mart BBQ area, the popular Tent City, and much more.  As a new attraction this year, lively and fun baseball skits will take place in the streets of Old Sacramento that feature spirited baseball players in period uniforms who invite crowd participation and celebrate the early days of the sport in the Capital City.