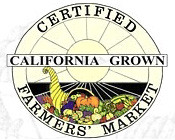 Farmers Markets
The Worlds Safest, Freshest, Tastiest, and most Nutritious Fruits and Vegetables in the World are grown in California by California Farmers!
HOURS


Tuesday – Saturday at various locations May – September.  The Sunday Market is year round!
Local Farmers Markets (Central City):

SUNDAY
8am – Noon
8th & W St (Under Freeway)
Open All Year

TUESDAY
10am – 1:30pm
Fremont Park / 16th & P St
May – September

10am – 1:30pm
Roosevelt Park / 9th & P St
May – September

WEDNESDAY
10am – 1:30pm
Chavez Plaza / 10th & J St (Front of City Hall)
May – October

THURSDAY
10am – 1:30pm
Capitol Mall / 6th & Capitol Mall (Between 5th & 6th St)
May – September

4:30pm-dusk
The West Sacramento Farmers Market
The Barn / 985 Riverfront St, West Sac
June 8th, July 13th, August 10th

3-7:30 pm
UC Davis Health System Farmers Market
Intersection of 45th and Y Streets in Parking Lot 12 (campus)
Free parking is available nearby at Shriners Hospitals for Children.
May – October

SATURDAY
8am – 1pm
Midtown Farmers Market / 2020 J St
Open All Year

9am – 1pm
Oak Park Farmers Market / McClatchy Park / 35th & 5th Ave
May – November

Local Farmers Markets (just outside the Central City):

Arden Garden Market, 1409 Del Paso Blvd.
Saturdays, 7:00am – 1:00 pm
April through September

Kaiser Permanente Parking lot, 2025 Monrose Ave
Fridays, 9:30am – 1:30 pm
June to November

Country Club Plaza, Watt & El Camino Ave
Saturdays, 8am – noon
Open All Year

Natomas Farmers Market, The Promenade (Target Shopping Center), 3637 N. Freeway Blvd.
Saturdays, 8am – noon
May-Oct

Florin Sears Farmers Market, Florin Sears Store, 5901 Florin Rd.
Thursdays, 8am – noon
Open All Year

Soil Born Farms- American River Ranch Farm Stand , 2140 Chase Dr.
Saturdays, 8am – 12:30pm,
mid-May – mid-November

Get your weekly delivery of Organic Produce:
Organics CSA
Join Community-Supported Agricultural (CSA) and promote sustainable and healthy living for you, your family and the planet. Choose an organic farm in the area that delivers the freshest produce available to your neighborhood.

Soil Born Farms – Urban Agriculture & Education Project
2140 Chase Dr  Rancho Cordova, CA 95670
(916) 363-9685

Full Belly Farm
P.O. Box 220, Guinda, CA 95637
Phone: 530-796-2214

Winter Creek Gardens
Rumsey, CA 95679
Ph/Fax: (530) 796-2243

Terra Firma Farm
P.O. Box 836 , Winters, CA 95694
(530) 756-2800

Sacramento Natural Food Co-op
1900 Alhambra Boulevard, Sacramento, CA 95816
phone (916) 455-2667 fax (916) 455-0762
Store hours: 7 a.m. to 10 p.m. seven days a week.