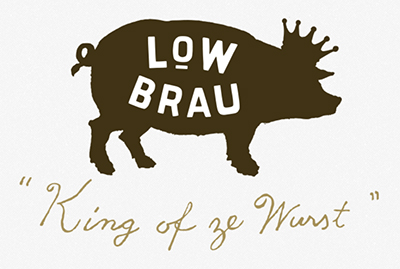 LowBrau Bierhall
Traditional and gourmet sausages, a wide selection of German and craft beers, communal tables and great times.
HOURS
Mon-Fri: 11am-2am
Sat-Sun: 10am-2am

Happy Hour: Mon-Fri 3pm-6pm
Brunch: Sat/Sun 10am-3pm
Lunch Combo Deals: Mon-Fri 11am-3pm
Description
Menu / Specials
Happy Hour
Willkommen LowBrau / Lunch - Dinner - Drinks - Live Music - DJ's

LowBrau is a gourmet sausage kitchen and beer hall located in the heart of Midtown on the corner of 20th & K St.

LowBrau sources the finest traditional, gourmet and exotic sausages from across the region and offers a wide selection of German, Belgian and American craft beers. LowBrau is also home of one of the most unique bar programs around featuring authentic schnaps cocktails!

Located in Midtown at the MARRS building next to

Block Butcher Bar Click Here

for

LowBrau Bierhall events and specials!